We have something for everyone
Vintage Consignment
Estate Sales
Auctioneer

We conduct single and multi-family estate sales. Click here to see upcoming events and auctions. Book us to host your sale.

Consignment
We are a locally owned vintage collectible and handcrafted retail consignment business located in Cedar Rapids.

We have a certified auctioneer available to manage your next sale. Click here for booking information.
We realize you have many choices to liquidate your or a loved one's possessions. Our hope is that you will turn to White Lion Treasures to be your one stop on this journey. We offer a complete solution to save you time and money.
You are embarking on a task that may leave you overwhelmed and lost. It can be an emotionally draining experience. Let our staff remove that burden. We offer many options to help liquidate these possessions. We offer expertise and compassion for your unique situation. We will evaluate each client's needs and offer the solution we feel will generate the highest revenue.
Please consider White Lion Treasures as your future liquidator with a heart. You matter to us!
White Lion Treasures is a locally owned vintage collectible and handcrafted consignment shop located in the MedQ area of Cedar Rapids. At White Lion Treasures, we have something for everyone: unique gifts, collectibles, handcrafted items, vintage finds, and more. We also offer full-service Estate sales, online auctions, and a certified personal property appraiser. Contact us today for additional information so we can get you the most money!
Tag/Estate Sales
Online Auctions
Consignment
eBay
Clean out and Disposal
Personal Property Appraisals
Charity Auctions online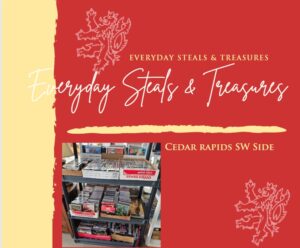 Events
This sale is full of things you don't often see at a sale –brand new healthcare products like Band-Aids, razors, foot care, injury care, etc.
Read More »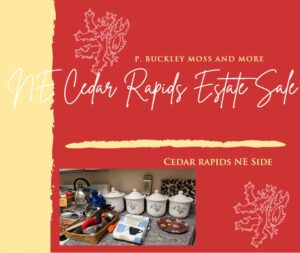 Events
P. Buckley Moss and more You will find a great mix of antique,  vintage and contemporary items at this sale, including several P. Buckley Moss
Read More »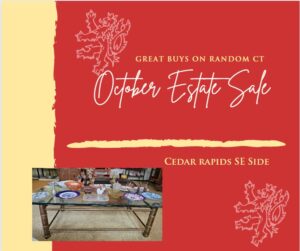 Events
"The great buys on Random Court"  This was an eclectic couple! You are going to find specialty paper, homemade paper books, oodles of office supplies,
Read More »
"White Lion Treasures has been a trusted partner in helping with both my parent's and my in-law's estates. They are very hardworking, knowledgeable, and our families are grateful with the results. You can COUNT ON White Lion Treasures for all of your estate sale and antique needs. Michelle Bell and her team are tremendous to work with and will go the extra mile for you and your family. We've been most pleased! Thank you White Lion Treasures!"
"We were in a difficult situation living in different states and remotely dealing with selling our Father's house after his abrupt passing just prior to the holidays. Michelle provided complete estate sale turn-key services and expert knowledge to facilitate all aspects of the sale including organizing the inventory, pricing, advertising, and moving heavy furniture. Given the challenging environment COVID-19 presented, Michelle used creative social media to continue selling our items past the three day onsite event. She has continued to market items stored at her facilities, providing a monthly statement, or disposed of unsellable items. Her stress-free approach was amazing and we would highly recommend Michelle for any size estate or other home furnishing sale requirement."
"Michelle and the team at While Lion Treasures is a great company to work with and I highly recommend for your tag sale/estate sale needs. They helped make our tag sale process go smooth, as our family was dealing with moving our mom to an assisted living facility, while also trying to prepare her home for sale, as well as 60+ years worth of items getting prepared to be sold and ready to go to their new homes and make someone happy, for hopefully another 60+ years. Thank you White Lion Treasurers team."
"Michelle and her associates did a fantastic job with the estate sale at my mother's house, very easy to work with. Glad I hired her for the job. Keep up the great work."
"We want to Thank White Lion Treasures for helping facilitate or online auction during a difficult time. The staff was very professional and attentive to any questions we had during the process and provided a quick response. The crew that set up the 500 lots were timely and very organized and did an excellent job pairing the lots for a very successful online bidder turn out. We didn't have any experience with an online auction and White Lion Treasures made the process very easy to understand and did a great job promoting and advertising the listings. After the 2 week online auction the pick up day was very well coordinated and went very smooth getting buyers in and out. They coordinated and dealt with making sure all of the items were paid in full before they were allowed to leave, taking the guessing game if the payments would clear. We would definitely recommend White Lion Treasures for any of your sale needs. They took on a project of liquidating 40 years of accumulating items and gave reassurance we would get great online participation and even sold some items they never sold before. Thank you again to Michelle and her staff. Job Well Done!"
"White Lion Treasures recently facilitated a tag sale for our parents who were moving into assisted living. Neither my sister, nor myself live locally, and we could not be more pleased with the stress free, high level of service we received. Michelle and her team went above and beyond, showing extreme kindness and sensitivity towards my parents, who were struggling to let go. We are forever grateful to Michelle, and highly recommend her to smoothly guide anyone going through this process."
"I just wanted to drop you a quick note to express our profound thanks for all you and your team have done to help us. As you know, we recently obtained an "as-is" property formerly owned by hoarders. The prospect of removing all of the items from the house so that we could quickly begin renovations was daunting. The property had many items of no value (recipes, old Christmas cards, etc.) and peppered throughout were many items of great value. We struggled to know which was which. Your team came in and made quick work of sorting, merchandising and selling. White Lion Treasure's expert and extensive marketing allowed for record turn out despite the sale being held on the same day as the Iowa vs Iowa State football game. Your services after the sale meant that clean up and removal of the few items that did remain was immediate. We were faced with what seemed an insurmountable clean up task. White Lion not only cleaned up our mess, they grossed in the tens of thousands of dollars in the process. I call that a win-win! I will be using White Lion Treasures for all my future tag sale needs."